True (...Sort Of)
by Katherine Hannigan
Booker...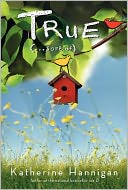 This was another good book from Ms. Hannigan, the author of Ida B. It is similar to Ida B--both have a character with a very close bond with nature, both deal with a serious issue, and both end with hope. In
True
, Delly is trying to stay out of trouble, something she hasn't been able to do up to now. It's not that Delly's bad or mean or thoughtless--quite the opposite in fact. Delly's passion and spirit usually lead her on path she shouldn't have rushed onto. To stay out of trouble, Delly decides to trail Ferris, a new kid in her class. Since Ferris doesn't talk (ever) (for a serious reason), Delly figures Ferris should be boring enough to keep Delly out of trouble. Should be anyway.
My kids really liked the Dictionary in the back of the book with words Delly made up and her invented no-cuss words. They're used heavily in this household now. My youngest son didn't really understand the ending and that's okay. He was able to enjoy the magic of the story and not deal with the serious stuff. My older son liked the book but felt uneasy at the end, which I think is a good thing.
In the book, Ferris has a special relationship with animals. Birds and squirrels flock to her. She easily communicate silently with her cat. Yet, the story is quite real. It's not a fantasy book. I hadn't thought about a story being about realistic people in a realistic setting and having a little bit of magic in that real world, too. At first, I tried to ignore the unrealistic reaction the animals had to Ferris and chalk it up to Delly exaggerating a little, but later I asked myself 'Why can't there be this "unrealistic" thread in a realistic story? Who says it has to be one or the other?' Then I embraced that part of the book. I was very glad this book again reminded me not to live in a world that's black and white. Gray happens, gray is real, and gray can be good.
It's been so many years since I read Ida B that I don't feel I could give an accurate review of it. I just remember being very moved by the book. The main character is home schooled until her mom becomes very sick and she has to go to "regular" school.
Blogger...
This book was one my wife chose to do as a read aloud to the kids on a recent trip we made. As I was driving, and almost all the reading was done in the car, I got to listen too. Author Katherine Hannigan spins a really good tale of friendship, of overcoming perceptions and of learning how to do what's right.
The story centers mostly around Delly Pattison, a 5th grader who likes surpresents (surprise presents). But, her surpresents tend to get her in trouble. In fact, she is in trouble so often, that most of her family and friends have given up on her. That all changes when Delly meets Ferris Boyd, the new kid in town who is like no one Delly has ever met before. Ferris comes with her own set of troubles though. Can Delly overcome her troubles and help Ferris?
There is a side story involving another kid's (Brud Kinney) interaction with Ferris as well, but I think the Delly/Ferris story is definitely the main theme. I really enjoyed this book, and my wife read it so well. This story is funny at times, sad at others, and heartwarming at others. A great choice for a read aloud book with kids. There are some tough themes at times, so I'd suggest kids 8 or older.