Blood Oath
(Nathaniel Cade Series #1) by Christopher Farnsworth
Booker...
In this story, there are worse evils threatening our country than terrorists and biological weapons. And, for over a century, the President of the United States has had a vampire protect us from this evil.
This vampire is Nathaniel Cade; he is forced by a blood oath to always and completely follow the presidents' commands.
Blood Oath
is a legal/government thriller with some sci-fi mixed in.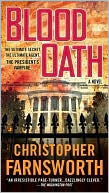 A fair part of this book is spent helping us learn about the characters we'll be involved with as is usual for the first book in a series. I think the author does a good job of keeping this interesting by using flashbacks and a mix of story lines. There is also enough left out to leave us wanting to know more. I thought the idea of the president having a vampire who helps him protect the country was such an intriguing idea. The plot is interesting with a few unexpected turns (unexpected by me at least).
I was excited to read this book. I think I had very high hopes. I did like the book, but I didn't absolutely love it liked I hoped. I think it is very similar to a lot of the bestsellers out there by Patterson, Griffin, Clancy, Cussler, and the like. So there's a few swear words, no biggie. I guess I had a little problem with the woman putting up with rough sex to get what she wanted. But at the same time, I don't think that's uncommon in most books of this type and it's not a big part of the book.
I came to like the main characters and the relationship between Cade and Zach. When I began this book, I did not know it was going to be a series, but I think I will read the next one,
The President's Vampire
, which just came out this April.
Blood Oath
was a good story with interesting likable characters that leave you asking questions you're looking forward to being answered.