The Throne of Fire by Rick Riordan
Blogger...
All the man does is write entertaining, high quality books for kids, young adults and 30 somethings who are recapturing their childhood. In The Throne of Fire we are once again reading the transcript of a recording made by Carter and Sadie Kane. Carter and Sadie are descendants of the Egyptian Pharaohs, in fact, 2 of the most powerful Pharaohs, and they are also magicians. The problem is, other magicians think they are outlaws because their father released trapped Egyptian gods back into the world. He did this to save the world from the return of Apophis, the most evil of all the ancient gods. Carter and Sadie believe that their father is right, that the old gods of Egypt are the solution to stopping the rise of Apophis, and they are bent on seeing this mission through. This time they have the help of a few other junior magicians who answered the call they put out with their first message in The Red Pyramid.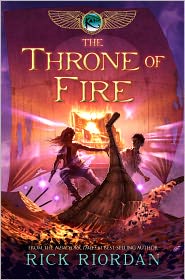 The Throne of Fire
is another masterfully crafted story from Rick Riordan, who is my favorite author. As this is the 2nd book in
The Kane Chronicles
series, we have already met our narrators, Carter and Sadie. Each character tells about 2 chapters before "switching" with the other narrator. Riordan varies the storytelling style enough that you really believe you are reading 2 different views of the events. It's a really cool way to read a story.
At first, I wasn't thrilled with this book. It took me a while to remember what I read in
The Red Pyramid
, which is the problem with only releasing 1 book per year. Once it all came back to me though, I thoroughly enjoyed the 450ish pages of this book and really look forward to the final book, due out next year. If you haven't picked up
The Kane Chronicles
, by Rick Riordan yet, give these books a shot. I think you'll really enjoy them.