As public awareness of autism increases, so does the number of books that include autistic characters. Here are a few with my accompanying opinions.
Rules by Cynthia Lord
I love this book so much. It is the winner of a Newbery Honor Award among other awards. Catherine is a twelve-year-old girl with a brother, David, who has autism. Catherine has tried teaching David some rules so he doesn't embarrass her quite so much. They are also rules you have to follow when dealing with David or you'll have a breakdown on your hands. When Catherine meets a disabled boy her own age, the rules she's always followed may need to change. In the end, Catherine ends up making great choices for her brother and herself. This is a great look at the stress siblings of special-needs children have as well as the isolation many kids with disabilities face everyday. Of all the books in this post, I feel this book as the most authentic autistic character. That may be a difficult statement to back since the symptoms of autism are so variable, but that's my opinion. This really hit home for me because of my children's experiences and especially how important Frog & Toad are to David, and my kids as well. Young or old, you need to read this book. It is so good.
Al Capone Does My Shirts by Gennifer Choldenko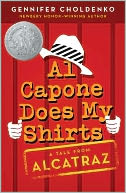 This book is also a Newbery Honor Award winner. And, it, too, deals with the stresses placed on a sibling of a child with autism-like symptoms and needs. This book is unique because this all takes place at Alcatraz in the 1930s! I read this years ago, so I don't remember a lot of it. I don't have the intense feelings about it I have for
Rules
but I do remember that I really liked it. Choldenko recently penned a sequel to this book (unfortunately I haven't read it) called
Al Capone Shines My Shoes
. (Cover has been redone. New cover is pictured.)
The London Eye Mystery by Siobahn Dowd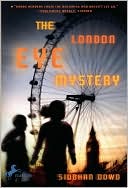 This book takes place in London. Ted has autism. Ted tries to relate all of life to weather. Even the part of his life when his cousin disappears while on the London Eye. A seeming impossibility. Ted and his sister Kat who is butting heads with everybody in her family end up working together (not Kat's idea) to find their cousin. I thought this book was okay. Many adults and kids I know you have read the book really liked it...unique characters, mystery, foreign setting, but it didn't really grab me. I felt like maybe it just didn't have enough to make it a teen book so they put it in the juvie section. Why not read it and let me know your thoughts. I have mixed feelings on this one, but I seem to be alone in that.
The Lemonade War by Jacqueline Davies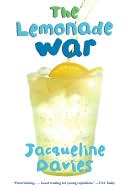 This was fun a book to read! Evan is ending his school year, so you would think he'd be happy, but he's not. His little sister, who's really smart but not so good with people, is going to be in the same class he's in next year. The same class, same teacher, same classroom! I think my boys would love this, they're used to it from home schooling, but Evan is dreading this. Unfortunately, he doesn't know how to express this to his sister and she just doesn't get the subtle hints. This and other misunderstandings lead to a contest between the two siblings to see who can sell the most lemonade. It's war and it's on. I really enjoyed the story but there's more to the book. Each chapter has tips for running a business and there's even a bit of math in the book. Besides some business help, I hope kids take away the idea that not sharing what you're feeling can really mess things up. While Evan's sister, Jessie, is never referred to as autistic (and being smart but not good with people does not equal autism) I put this book in this post because many of her symptoms and problems the siblings face are similar to those with autism and/or autistic siblings. I am so excited to read the two sequels:
The Lemonade Crime
and
The Bell Bandit
. Book 2 deals with a theft that happens in the first book. Each chapter gives the definition of a legal term. Some say the second book isn't as good as the first, but if you read
The Lemonade Wars
you won't care what the critics say you'll want to read
The Lemonade Crime
. The third book is about a Christmas visit the grandma's with a mystery to be solved. There may be another character introduced who has autistic-like traits.
I haven't read this book yet, but I wanted to at least mention it in this post. Mockingbird by Kathryn Erskine is a National Book Award winner about a fifth-grade girl with Asperger's syndrome. Her brother has dies. She's left confused without the person she normally turned to for guidance when the world wasn't black and white.
One more book, again unfortunately, I haven't read it, but I'll list it here as another opportunity to read about an autistic character. Anything But Typical by Nora Raleigh Baskin received a Schneider Family Book Award (like Rules) and is about a autistic boy who may have found someone online who understands him, unlike his neurotypical peers.
Not about autism, but about a child with special needs, Out of My Mind by prolific and award-winning author Sharon M. Draper, is about a girl with cerebral palsy. Most people at her school don't realize her brilliance. When she gets a chance to try to prove herself, she has to decide if it's worth the risk. Another on my to-read list, but it sounds so good I didn't want to leave it out.
too late at night to proof read, but I will fix any mistakes tomorrow