THE BOOK THIEF by Markus Zusak
I read this book several years ago now, but I think it should become required reading in high school. This story, narrated by Death, takes place in Germany at the rise of Hitler's power. It is a supremely good book, and I think everybody should read it. Before I read this book, I had little interest in history. After I read this book, I wanted to learn much more about WW II and I began to see the importance of understanding history. Aspects of this book are based on experiences of the author's relatives in Germany during WW II.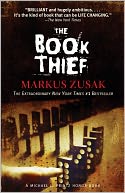 The Book Thief is the story of a young girl who comes to live in a foster home and the people she meets in this new place. But there is much more than an interesting plot to this book. The story considers the power of words to inspire good as well as to destroy.
It's hard for me to do justice to this book in a simple review, and I don't want to ruin the story by giving too much away. I can only emphatically recommend you sit down and read this book.