PRIDE AND PREJUDICE by Jane Austen
I might have been the only English-speaking female old enough to read it that hadn't read it, but now I can say I read it. And, I liked it.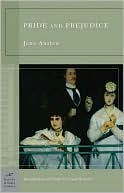 At work I see so many take-offs of this book and other Austen stories and books based on Austen. One of my favorite authors (
Shannon Hale
) has a series of books about Austen fans, so I thought I really needed to read this, and I'm glad I did.
Austen is much easier to read than the Brontes. I was expecting a book that would take a long time to decipher, but that was completely wrong. I also read the Barnes and Noble Classic version which has good footnotes and definitions for unusual words. I'm looking forward to reading some of the extrapolated works of other authors. One of my co-workers said many of them she has read have not been great but she does like
Amanda Grange's
books.
In case you may have been like me and have not read Pride and Prejudice, it is about the development of two relationships and a comedy of errors or misassumptions. To say much more would ruin the suspense of the book. It almost reminded me of Shakespeare, where there isn't much happening but at the same time you can't wait to find out more and there are several misunderstandings which makes finding the truth much harder for the characters.
I really enjoyed the book. Now, I'm anxious to watch the BBC production with Colin Ferth. Another co-worker told me it's outstanding.
(Yes, I made the word misassumptions up. But, maybe it will eventually make the dictionary. Truthiness did.)