BE A MAN! Becoming the Man God Created You to Be by Fr. Larry Richards
Blogger...
Father Larry Richards' book was the handout at this year's local Catholic Men's Conference. Fr. Richards is the Keynote Speaker at the 2012 conference, and if his book is any indication, he is going to let us men have it!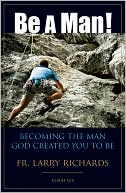 Be a Man
is a very challenging read. All throughout the book Fr. Richards uses very straightforward language to get the reader to face the fact that he is most likely not living the life that God intended him to be living. From a man's relationship to Jesus, to his role as spiritual leader of the family, to his duty to change the world,
Be a Man
covers it all.
I really enjoyed this book and was challenged by it. Fr. Richards starts off the book by telling us that we're all going to die...it ends the same way for all of us. When we die, we have 2 options for eternity, and the good news is, we get to choose where we spend it (unless you believe in Predestination, but that's a topic for a different blog). The problem is, too many men are leading lives that indicate that they are choosing the wrong option.
Fr. Richards makes the case for Jesus being the ultimate man, and then spends the rest of the book providing ways to live out the life God intends for you. Each chapter focuses on a new area to work on, and contains practical tips. Some of the tips are very challenging, such as devoting 1 hour every day for the rest of your life to prayer...I find that one very challenging, but one that I'm also going to pray that I can someday commit to.
At the end of each chapter, there are study questions, so I think this would be a great book for men's groups looking for something to study. I highly recommend this book for all men, not just Catholic men. I think it has the potential to change your life. I look forward to hearing Fr. Richards speak more on the topics in
Be a Man!
and next year's conference.