WICKED WEAVES (Renaissance Faire Mystery Series #1) by Joyce and Jim Lavene
Booker...
I was really excited to read this book. I love Renaissance festivals! My family and I have such a blast at our local festival. Some Faires (like the one in Shakopee) are not so family friendly with nearly nude fairies and overflowing bosoms, but ours is fantastic family fun!!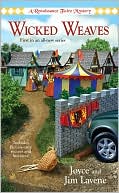 So, I love Renaissance festivals and mysteries! I was so stoked to read this book. What more could I want? Well......
Jessie is an assistant history professor at the local university, who works summers at the local permanent Renaissance Faire. She has decided to do her dissertation on crafts of the era, so she is apprenticing with a different crafter each year. This year she is apprenticing with Mary, a Gullah who handweaves baskets. Mary's husband, whom she has not seem for 20 years, is found murdered at the faire. Jessie is determined to prove Mary's innocence. While this is going on, Jessie finally gets together with her long-time crush, Chase.
It's a good story. It's a good book, but...for me there was too much casual sex. It's never described, only alluded to. It seems at first Jessie is a shy person not confident in her relationships, but later you discover, she finds a new fling at the faire every summer. That just wasn't for me. I was also confused if the basket weaving she was learning was really a Renaissance craft. There was one other minor point that truly annoyed me. Jessie has a twin brother, Tony, who is very different from her. She mentions twice that she can't believe they came from the same egg. They didn't or Jessie can't be who she says she is. I have many twins in my family and as friends, and believe me, they know the biological rules of their twinship.
The mystery itself was a good mystery. Many people who like the faires and mysteries, may very well like this book, but I don't think I'll be reading the second one.