EVA by Peter Dickinson
At a gathering of fellow booksellers, we talked about recent books we'd read, and I mentioned
Cat's Cradle
. One bookseller said that was one of three books that really got them into reading. They would stay up late at night with the lights on to read and they were hooked and inspired by
Cat's Cradle
, and two other books, which I can't remember now.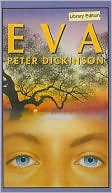 It made me think of the first book that really hooked me on reading. It was
Eva
by award-winning author
Peter Dickinson
. Reading that book was the first time I hid under my covers with a flashlight so I could keep reading into the wee hours of the night. The story just blew me away.
Eva's parents are scientists, who work with chimpanzees. After a terrible car accident, they decide to save Eva by placing her brain in the body of a chimpanzee. Eva doesn't know what has happened when she first awakes. How she discovers the truth, copes with it, and eventually decides what to do with her life is a fantasic story. I highly recommend it. It is a great book for discussion!
I have to give credit to my junior high librarian for introducing me to this book. Every so often, she would read part of a book to us over the intercom system and end at a suspenseful part of the book. This was one of the books she read. I don't know that I would have ever discovered this book without her introduction.