The Bog Child
by Siobhan Dowd
Booker...
You can appreciate this story much more if you know some history of Ireland, Northern Ireland, and Britain. At the time of this story, many people in Northern Ireland are protesting that this land was not given it's independence with the rest of Ireland and still belongs to Great Britain. Some protesters are using bombs to make their point, but not all. Many rebels are also being imprisoned...as criminals. The rebels want to be considered and treated as prisoners of war--not criminals. Bobby Sands started a hunger strike in the prisons to help this status come about and with hopes that conditions in the prisons would improve.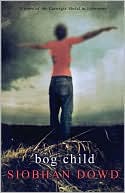 Despite the danger, Fergus and his uncle have crossed the border to collect peat on the Irish side of the border. While collecting the peat, Fergus discovers the body of a child. The bog preserves like the sands of Egypt, so it's difficult to know how recently the child may have died or been killed. Fergus insist his uncles contact the authorities despite the danger this may impose. Fergus feels a connection to the "bog child" and is eager to help the woman who comes to investigate and enjoys her daughter's company, too. But Fergus has more to worry about than his gruesome discovery. His final exams are coming up, Fergus's brother has been imprisoned, and now Fergus is getting pressure to join the fight against Britain.
This book has so much depth. The story of Fergus and that of the Bog Child are interwoven wonderfully. This is a magnificent book, and would make a great book club selection because there are so many things to discuss. A friend from work has read two of Ms. Dowd's other books and highly recommends them as well. Unfortunately, Ms. Dowd passed from breast cancer at the age of 47. She was an amazing woman working hard for human rights and to help bring literacy to those who most needed it. You can a view a short biography of Ms. Dowd at
http://www.goodreads.com/author/show/80760.Siobhan_Dowd
which lists her community and global work and her success as a writer. There is also a link to the trust she established shortly before her death. The website address is
http://www.siobhandowdtrust.com/
. We are fortunate that she was able to give her readers four phenomenal books. (Two more teen books:
Swift Pure Cry
and
Solace of the Road
and a juvenile fiction book
The London Eye Mystery
)
Parental note: There are jokes about condoms, physical affection, and a reference to sex. While this may make it inappropriate for some readers, the subjects are mentioned in a fairly innocent way.