The Alchemy of Murder
(Nellie Bly Series #1) by Carol McCleary
Booker...
A fellow co-worker pointed out a book to me she thought I would like. It was called
The Illusion of Murder
, a book about Nellie Bly investigating a murder in Egypt during her trip around the world. She knew I loved the
Amelia Peabody mystery
series about a woman in the late 1800s who goes to Egypt and becomes an archaeologist. I was excited to read the book. Before I started, I found it was actually the second in a series, so I started with the first.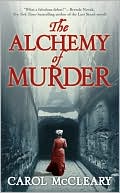 This mystery series is very interesting because, as the name implies, Nellie Bly is the main character. (Nellie Bly was a female newspaper reporter who did remarkable things, such as infiltrate a mad house by pretending to be a patient in order to report on the conditions inside, called for equal pay for equal work for women, conducted news investigations in Mexico, traveled around the world in 72 days, and more.) In the first book, Nellie has tracked a murderer from New York to Paris, hosting the World's Fair. There, she enlists the help of Jules Vern, and in turn gets help from Dr. Louis Pasteur and Oscar Wilde.
Most of the book takes place in the seedy parts of Paris, thus there is quite a bit of vulgarity in the book. It's not necessarily unwarranted because it is certainly characteristic of the setting, but not a tale for the squeamish. I enjoyed most of the author's portrayal of the real-life characters. I think most of their actions seemed to follow what's known of their personalities, though I'm not a real expert on them, especially Jules Verne, so I can't stay for sure how much they may have "acted out of character". There is probably always a delicate balance to maintain when using real-life people in a fictitious story.
I did not enjoy this book nearly as much as the Amelia Peabody Series by Elizabeth Peters for a few reasons. The real-life people portrayed by Peters are secondary characters, so I think it is easier to have them following their perceived public personality and actions. I also love these books because the setting is made very real without the blunt expression of vulgarity. Hints, innuendos, and the like make known to the reader what is true without plopping the ugly truth right before their eyes.
Though it may not be my new Amelia Peabody,
The Alchemy of Murder
was a good story. It took a different path than I thought it was headed for, and had a lot of suspense and twists. I think those who enjoy historical mysteries, especially mysteries involving real-life events and people, will enjoy this book. Happy sleuthing!