Warning:
Many of the books in this series are out of print. If you don't want to get interested in a series in which you may not be able to find the middle books, you may not want to read this review.
Booker...
The Novice's Tale
by Margaret Frazer
This mystery takes place at an English convent in the 1400s. A wealthy dowager, Lady Ermentrude, charges into the convent demanding her niece leave the convent in order to marry, despite the Thomasine's deep desire to take her religious vows at the convent.. While staying at the convent Lady Ermentrude dies. The novice, Thomasine, seems the likely suspect. Sr. Frevisse is secretly given the task to find the true cause of death, despite what the crowner may say.
I liked this novel for so many reasons.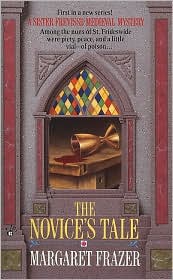 1. I enjoy reading about the Medieval times. The reader can tell Maragret Frazer has a vast knowledge of this time period. I learned a lot.
2. The mystery is a good one. I enjoyed the twists and turns it took.
3. Each nun is unique. It seems so often religious people are portrayed as dull or extremely evil. Here, the nuns have unique personalities, talents, faults that are all evident to the reader, despite the nuns' rule of silence. Sr. Frevisse is a complex but very likeable character. I wish she was my aunt.
4. The Catholic religion is respected and described accurately. It is neither white-washed to perfect purity nor vilified. Many books I've read take unneeded jabs at the Catholic church. Frazer's approach was rather refreshing.
I think whether you have read many Medieval novels or none, whether you are religious or not, you will enjoy this interesting mystery.
Unfortunately, many of the books in this 17 book series are out of print and unavailable as ebooks. Books 1 and 2 are in print. Books 3,4, &5, are available as ebooks. I believe books 9 and above are in print. If you become interested in this series, you can look a book up on the Barnes and Noble website (
www.bn.com
) and click the link that requests this book be offered as an ebook. They send this on the publisher. I could not find a way on the Penguin USA website to place a request.
Margaret Frazer has another series of books based on a traveling actor, Joliffe. He is introduced in the second book of the Sister Frevisse series called
The Servant's Tale
. The first book in the Joliffe series is called
A Play of Isaac
. The seventh book in the series is due out this December.