CHRISTIAN ATHEIST by Craig Groeschel
This book was loaned to me by a friend several weeks ago. I'm glad they loaned it to me. It's a fast read, which is unusual for many Christian books.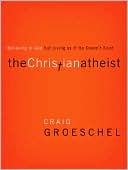 Written by Craig Groeschel, a Pastor of a fairly large Protestant Church, "The Christian Atheist" tackles the topic that many of today's Christians face. We say we believe in God, but live our lives as if we don't. We worry constantly, we rely on ourselves rather than God and we take part in many activities that we shouldn't. Groeschel points out his own Christian Atheism and then provides practical strategies for overcoming it.
I found this book to be pretty good. It wasn't overly complicated. The best part of the entire book was the afterward when Groeschel explained the 3 lines of Christianity. When you cross line 1, you profess your belief in Christ, but don't really change anything. Crossing the second line means that you follow Christ and modify your behavior when it is comfortable for you. The third line is when you give your life completely over to God. To me, the afterward would make a really interesting book...maybe Mr. Groeschel will take the time to write that book.
I think this would be a good read for anybody who is lukewarm in their faith, or is currently a first liner. Overall, I don't feel like it was a waste of my time, and it probably won't be a waste of yours.