THE UNEXPECTED MRS. POLLIFAX by Dorothy Gilman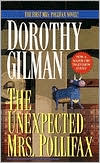 I am so happy a co-worker of mine introduced me to this plentiful series. Mrs. Pollifax is a widow whose two children live far away with families of their own. She spends her time between pushing the book cart around at the nursing home and her garden club. She feels unneeded and unproductive and contemplates suicide in a very matter-of-fact way. Convinced by her doctor to give herself a little more time, she stalls on the suicide plan and through a case of misunderstanding finds herself on a plane to Mexico on a mission for the CIA! The beginning moves quite quickly and before you know it, Mrs. Pollifax in undercover for the CIA in Mexico to bust a drug ring. Mrs. Pollifax is so practical and matter-of-fact, and so unexpected as a CIA agent, that she is actually rather successful...until things become complicated.
This series has humor and mystery. Mrs. Pollifax is a fantastic character who you can't help thinking of as a very clever friend that takes you all over the world from Mexico, to Turkey, to Eastern Europe, to Africa. Sit back and enjoy the ride.