I'D TELL YOU I LOVE YOU BUT THEN I'D HAVE TO KILL YOU by Ally Carter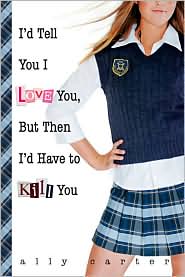 This is the first book in the Gallagher Girls Series. The local citizens don't realize The Gallagher Academy isn't actually just a school for rich preppy girls, but actually a school training teen girls how to become spies. Cammie is the master at staying undetected when on missions. So much so, she's known as the Chameleon. But at the academy, things are different. Everyone recogonizes her as the headmistress' daughter and the girl whose dad died on what would become his last spy mission.
A new teacher arrives who tests the girls' skills. Cammie was doing a great job of tracking her target undetected. In fact no one was paying any attention to her. She had almost completed her mission, when someone noticed her. A very cute boy noticed her. Maybe it wasn't so bad being noticed.
But, Cammie has a mission and training to complete. Should she put that aside and try to live like a normal teenager? With the help of an very unlikely allie, Cammie tries to do both--be normal and be a spy. Will it work? Which should she choose? It will be fun reading to find out.