The Brendan Voyage
by Tim Severin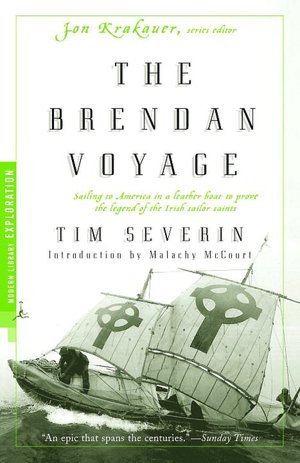 A medieval text leads to a fantastic journey chronicled in
The Brendan Voyage
. According to the medieval text, St. Brendan and some fellow Irish monks, sailed to North America centuries before Columbus and before the Vikings. I was interested in reading this book based on personal recommendations, my Irish ancestry and my Lakota ancestry which, I think, gives me a predetermined dislike for Christopher Columbus.
Tim Severin sets out to silence skeptics by replicating St. Brendan's voyage. (He is no stranger to replicating other explorers journeys as can be seen in his other books.) Severin locates the same type of wood and leather St. Brendan used to make his boat. The ox hides are tanned using the same methods employed to make St. Brendan's boat. Even flax rope is used for the stitches to hold the ox hides together. There is no doubt that boat is an authentic copy of St. Brendan's boat. If the crew can make it across the Atlantic, they will have proven how plausible the medieval texts are.
It is an interesting book. Without any knowledge of sailing, I was still able to get a picture of what was going on to build and sail the boat. Yet, I think I would have enjoyed the book more if I was more familiar with sailing terms. There are times of wonder and danger aboard
The Brendan
.
I especially liked the end of the book when Severin does a great job of summarizing what the voyage teaches us about the knowledge, strength, and faith of the Irish and the spirit of the human being.
St. Brendan is described as one of Ireland's most beloved saints. I feel bad I had never heard of him.
While looking
for
The Brendan Voyage
if found an historical novel about St. Brendan by Morgan Lleywelyn, a proven author, and children's book,
Saint Brendan and the Voyage Before
Columbus, by Michael McGrew, and a musical CD based on St. Brendan's voyage by Shaun Davey.