The Poisoner's Handbook
by Deborah Blum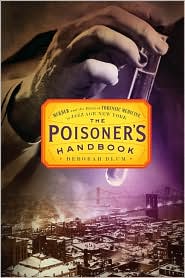 What a great book!! I think Bookalicious Babe will agree with me.
The book is about Charles Norris, New York medical examiner and his toxicologist Alexander Gettler, who worked in the 1920s. Charles Norris along with Gettler and the help of others started the discipline of forensic science.
I also enjoyed learning about prohibition. I didn't know anything about it except that it happened. I love it when you learn something you weren't expecting to while you learn what you were hoping to.
Blum did an excellent job of organizing the book. The book follows a timeline while focusing on a specific poison for each chapter. Blum does a fantastic job of combining the 1920s New York City culture, accurate chemistry, and true crime into one flowing story. Fans of forensic science, chemsitry, and true crime will love this book. You've finished Erick Larson and don't know what to read? Now you do...Deborah Blum. Co-workers have told me her other book
Ghost Hunting
, about the search for scientific proof of ghosts, is an excellent book.