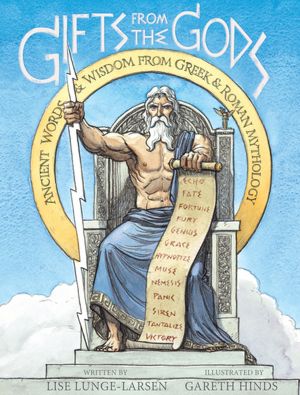 Gifts from the Gods:
Ancient Words & Wisdom from Greek & Roman Mythology
by Lise Lunge-Larsen illustrated by Gareth Hinds
Fortuna smiled upon me Monday, and a good librarian. This book was displayed with new books at our library. My kids really like Greek and Roman mythology, so I picked it up. What a cool book it is!!
Seventeen English words/expressions are featured. Each word is accompanied with it's pronounctation and definition, a quote from a children's book using the word, and the Greek or Roman myth can gave us that word expression. or the meaning of that word. After the myth other words or phrases we use from that myth are discussed briefly. There is a nice summary of information at the end of the book as well.
The illustrations fit excellently with the myths. They look both modern and ancient at the same time.
Proving that nothing is perfect, I have one big disappointment with this book. In the story of the Graces, Venus is pictured naked but for her hands covering her private areas. The picture is small, but still very distinguishable. There is no need for it. I can think a lots and lots of other ways to illustrate this scene and other scenes from the story worth illustrating. I've almost come to conclude that publishers think even kids book of Roman and Greek literature must contain nudity. I have not been able to find an illustrated copy of
The Illiad
or
The Odyssey
without nudity, though I spent a lot of time looking.
I don't want to end this review on a sour note. I think this book is a really great book. The retelling of the myths are a simple version so as not to bog the reader down with the story but to focus on the words the myths have given us. An original, educational, and entertaining read.