DRAGON SLIPPERS by Jessica Day George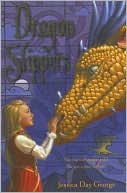 I might not judge books by their cover, but I sure do pick them by their cover. I hate to admit how often I find a book I like because the cover set it apart from the other books. I'll be busy putting books back on the shelf, but I'll notice a cover which entices me to stop and take the time to find out what the book is about. And so it was with this book.
Our heroine, Creel, is left at a dragon's cave by her aunt with hopes a prince will save her and marry her or a dragon will find her and eat her. Either way she'll be out of her aunts hair. Creel is not rescued by a prince, nor is she eaten by a dragon. With these two possibilities out, Creel heads for the kingdom's capital city, hoping to find an apprenticeship at a dressmaker's shop. (Creel is a very talented embroiderer.) A fantastic adventure follows with dragons, friendships, secrets, danger, and love.
I love books with dragons and royalty and this book just left me feeling warm and satisfied. Stained-glass windows and embroidered dresses decorate the story. I'm not familiar with embroidery or stain-glassed windows though I admire them both, so that added to the pleasure I found reading this book.
The author has written two other books featuring Creel and the dragons,
Dragon Flight
and
Dragon Spear
. Though I found
Dragon Slippers
the strongest of the three, fans of Creel and her friends will enjoy the sequels, too. Jessica Day George has a new book out, which sound fabulous and is high on my list to read, called
Tuesdays and the Castle
.
Jessica Day George
has also written some teen books that are based on fairytales. (Another of my favorite reads.) I haven't read any of them yet, though I hope to soon. I've listed at least some of the titles below.
Sun and Moon, Ice and Snow
(folktale of the girl and the polar bear prince)
Princess of the Midnight Ball
(twelve dancing princesses) and companion book
Princess of Glass
She has another book projected to be published in November 2012. If you enjoy Shannon Hale you should also read Jessica Day George, and thank goodness she has so many books waiting for you.