Booker--
NEIL FLAMBE AND THE MARCO POLO MYSTERIES by Kevin Sylvester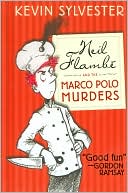 Neil Flambe is a prodigy gourmet chef. At age 14, he currently runs his own high-end restaurant. Neil may be the best cook in Vancouver...and he knows it. My kids love cooking and history,so how incredible to find a book that combined them both. But, they really didn't like it at first. Mostly because Neil is not such a nice guy, though his cousin Larry offers lots of laughs. I told them to hang in there, maybe Neil will learn he should be a nicer person, so they did. Towards the last third of the book, they didn't want me to stop reading. Neil does learn the errors of his ways, makes amends with people, and discovers the murderer who has been been using information from Marco Polo's secret journal to kill off some of Vancouver's best chefs.
We just finished the book this morning while we
sipped our chai lattes
. If you read the book, you'll understand.
I thought the book would have a lot more descriptions and explanations of the cooking and dishes, which it did not. That was disappointing. I would recommend this book for upper elementary to middle school kids, who have an interest in cooking or history and like mysteries. Without relating to this book with a special hobby, it may be hard to keep their interest. (We read this book as a read-aloud and I edited the often used phrase "what the heck" to "what in the world".)